LITTLE PRINCE
Little Prince is one of my favorite books ... Written by Antoine de Saint Exupery at the beginning of this century, this tale is the story of a little blond boy that meets an adult with who he will become friend, somewhere in the world, dunno where.
He discovers, during a trip, adults, who will allow him to understand adults world and life on hearth. Little prince is in love with a rose, look after a sheep and regn on a small planet on the solary system ... Here are some pictures of this very particular character u'll love soon. He's so touching, so pure, so honest facing his feelings and emotions ! He's discovering life, surprised, desorientated, disappointed, brave, tender...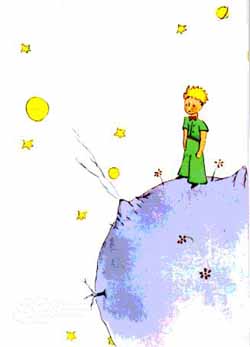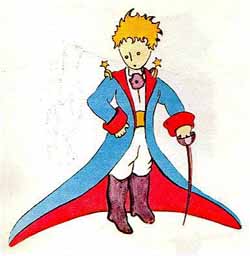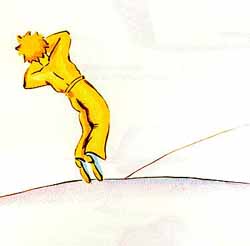 Antoine de Saint Exupery has created the character and has drawn him as well.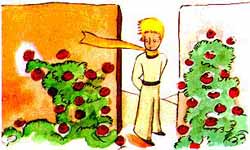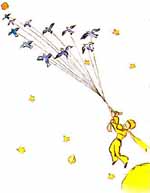 I don't think it's possible to resist to such a grace and innocence.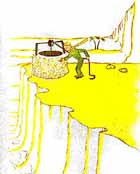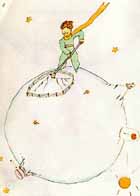 Little Prince is a real Prince...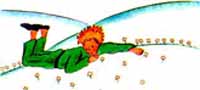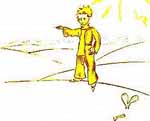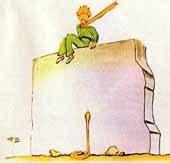 Antoine-Marie-Roger de Saint-Exupery
Antoine de Saint Exupery was born in Lyon, France, 29 june 1900.
After finishing schools at Sainte-Croix-du-Mans, he tried to join the Navy, but couldn't enter the Naval Academy.
He joined the French Air Force in Strasbourg in 1921 as mechanic.
In the age of twenty-six, he became pilot of mail service from Toulouse to Dakar and had been named chef of Port Juby Office.
He flew then in many South African Cities ...
He did the same during the Civil War in Spain.
In 1938, after the german troops have occupied France, he moved to USA.
His experiences during these flights and his numerous crashes in then still unstable planes are well described in Night Flight (Vol de Nuit, 1931), Southern Mail (Courrier Sud, 1929), Flight to Arras (Pilote de Guerre, 1942) Airman's Odyssey, Wisdoms of the Sands, Letter to a Hostage (Lettre à un Otage, 1943) and Wind, Sand and Stars (Terre des Hommes, 1939). During his life in USA, he wrote several novels among them one of his best knowing one, The Little Prince (Le Petit Prince).
That book written in New York City (1940) is, according to some sources, third most read book in the world in this century. Holy Bible and muslim Coran are first two.
After beginning of World War II, Exupery moved back to France and joined army again. At 31 July 1944, during of one of his mission over Mediterranean Sea his plane had been shot down ...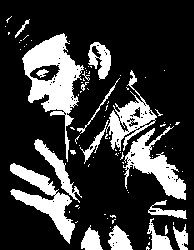 MY FAVORITES QUOTES OF THE BOOK

"You must see to it that you pull up regularly all the baobabs, at the very first moment when they can be distinguished from the rose-bushes which they resemble so closely in their earliest youth. It is very tedious work, but very easy." (page 21)



"One never ought to listen to the flowers. One should simply look at them and breathe their fragrance.
Mine perfumed all my planet. But I did not know how to take pleasure in all her grace.
This tale of claws, which disturbed me so much, should only have filled my heart with tenderness and pity." (page 31)



"Well, I must endure the presence of two or three caterpillars if I wish to become acquainted with the butterflies.
It seems that they are very beautiful." (page 34)

"And he was overcome with sadness. His flower had told him that she was the only one of her kind in all the universe.
And here were five thousand of them, all alike, in one single garden!" (page 62)



"You are beautiful, but you are empty. One could not die for you. To be sure, an ordinary passerby would think that my rose looked just like you--the rose that belongs to me. But in herself alone she is more important than all the hundreds of you other roses: because it is she that I have watered; because it is she that I have put under the glass globe; because it is she that I have sheltered behind the screen; because it is for her that I have killed the caterpillars (except the two or three that we saved to become butterflies); because it is she that I have listened to, when she grumbled, or boasted, or even sometimes when she said nothing. Because she is my rose." (page 70)



"It is only with the heart that one can see; what is essential is invisible to the eye."


BACK